For information about yoga classes in Abingdon and on Zoom, read on ....
ABINGDON YOGA : Gentle and accessible yoga for all levels, all ages!
I teach in a softer 'hatha' style to suit all ages and levels of fitness, and welcome beginners. I have been teaching yoga in Abingdon for 12 years, and more recently online using Zoom.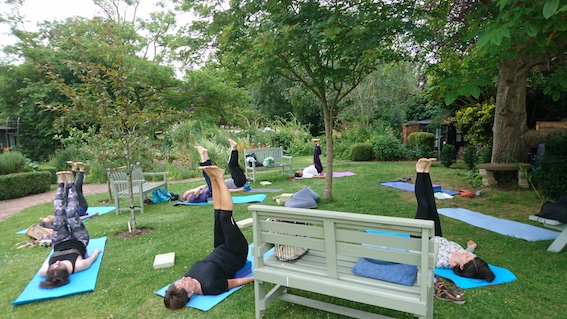 We practise in the beautiful garden at St Ethelwolds in Abingdon in the summer months.
The following timetable runs until December 14th 2022:
Monday 2 - 3.15pm Afternoon yoga (slow) in the Sanctuary at St Ethelwolds, Abingdon
6 - 7pm Hatha flow (all levels) online Zoom.
Wednesday two evenings classes in the Sanctuary, St Ethelwolds 5.15 - 6.30pm (all levels);
and 7 - 8.15pm (stronger after work stretch).
See below for my latest weekly class blog