ABINGDON YOGA AND ONLINE ZOOM
Gentle and accessible yoga for all levels, all ages!
I teach in a softer 'hatha' style to suit all ages and levels of fitness, and welcome beginners. I have been teaching yoga in Abingdon for 12 years, and more recently online using Zoom. My studio based classes are often full, as limited to eight spaces, so do get in touch to book your place.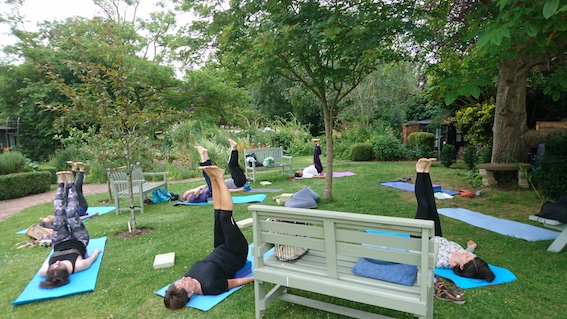 Yoga in the garden this summer
The winter term ends on Monday December 11th. The next term begins on Wednesday 3rd JANUARY 2024. Please use the contact form on this website to enquire or reserve your place. Classes work out at £9 when booked in advance. The current timetable is:
Monday 11am-12.10pm Morning yoga (slow) in the Sanctuary at St Ethelwolds, Abingdon
6 - 7pm Hatha flow (all levels) online Zoom.
Wednesday two evenings classes in the Sanctuary, St Ethelwolds 5.00 - 6.10pm (Hatha flow, all levels);
and 6.45 - 7.55pmpm pm (a deeper focus ending with with restorative relaxation).
See below for my latest weekly class blog